ONE STOP SOLUTIONS FOR TB DIAGNOSTICS
WHO APPROVED TESTS.
We are providing one stop solutions for tuberculosis diagnostics which includes pulmonary and extrapulmonary samples. All type of samples are processed which includes sputum, body fluids, bone tissue, endometrium tissue, BAL, CSF, Menstrual blood, Semen and others.
Our specialties includes Gene Xpert / RIF test for detection of tuberculosis with drug resistance for Rifampicin. Turnaround time for results 12 hours.
MTBDRplus line probe assay (LPA) and Xpert MTB/RIF have been endorsed by the World Health Organization for the rapid diagnosis of drug-resistant tuberculosis for both Rifampicin & INH.
Line Probe Assay the test is based on DNA strip technology and has three steps: DNA extraction, multiplex PCR amplification, and reverse hybridization. All three steps were performed as per the WHO recommendations.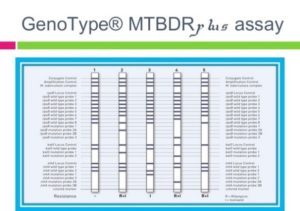 Genotype MTBDR Ver 2.0 from HAINS Life Sciences Germany.
Identification of the M. tuberculosis complex and its resistance to Rifampicin and/or Isoniazid from pulmonary clinical specimens or cultivated samples
The emergence and spread of multidrug-resistant tuberculosis (MDR-TB) and extensively drug-resistant tuberculosis (XDR-TB) are a major medical and public problem threatening the global health.
MDR-TB is caused by mycobacteria which are at least resistant to the two most powerful first-line anti-TB drugs rifampicin and isoniazid. Conventional methods for mycobacteria culture and drug susceptibility testing are slow and elaborate, requiring sequential procedures for the diagnosis. During this time patients, may be treated inappropriately, drug resistant strains may continue to spread, and amplification of resistance may occur. Therefore, rapid diagnosis and identification of MDR-TB strains are prerequisites for the worldwide fight against TB.
Your benefits with Genotype MTBDRplus
Can be performed from pulmonary patient specimen and from culture material.
Results are obtained faster compared to 1 to 2 months with conventional methods. Allows early, appropriate treatment, which reduces transmission and spread of MDR-TB.